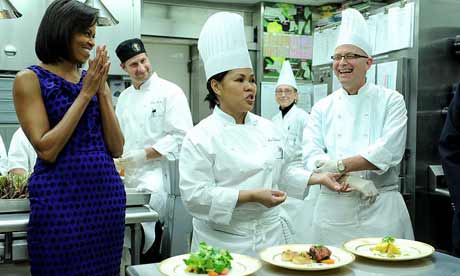 I would like to pretend that I am above such things as reveling in the details of a state dinner. I should properly scoff and roll my eyes when china and flatware and which glassware, the Lincoln or the Kennedy? becomes the order of the day. But I don't. Because secretly, I love every mundane detail about this White House. I'm fascinated by each place setting and menu card. I want to pretend like I am there, listening to the Marine Band play.

It's been a fantasy of mine to attend a state dinner ever since I saw Michael Douglas waltz Anette Benning around the Blue Room in "The American President", and until I get to live out that fantasy for real, I'm going to live it vicariously through the press.

So here, for my fellow interested parties, are all the indulgent details of the Obama's formal dinner for the National Governor's Association. Go on, let yourself go.

You can find even more details here.

Highlights


The President Loves scallops!
The center-pieces include bronze gilded baskets purchased from France in 1817
They used the Woodrow Wilson China and the JFK Glass Service, and yes, Michelle plans to design her own china pattern so that years from now we will have state dinners with "The Obama China"